Sound To Pictures Vol 1 
(2017 – Classical)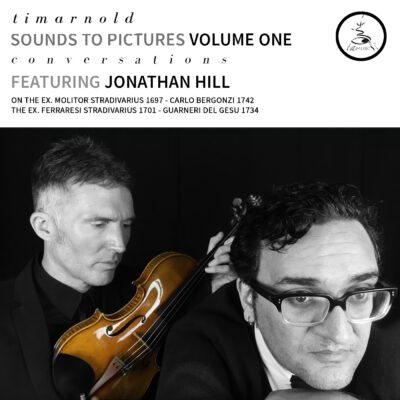 "What has been created here is one of the finest instrumental albums I've heard in a very long time. Frankly, you couldn't find a more perfect album for a little self-isolation escapism." Adam Jenkins, FATEA Magazine
Sounds to Pictures began as a collaboration with my dear friend Jonathan Hill – a world class violin soloist who has provided strings on almost all my albums.  I'd always wanted to separate the classical elements from my songs from the lyrics so that I could really enjoy the melodic motifs and musical themes that I felt were hidden by my voice.  Allowing Jonathan to take the lead re-invented the landscape of my songs and in turn, inspired me to write new bespoke pieces for him to record.  The Sounds to Pictures series of albums is an eclectic mix of musical genres comprising of both new and older compositions of mine recorded on a collection of priceless and historic instruments, including a 1697 Antonio Stradivari.
Sound enriches our lives in so many ways and today, music itself is being used in a supporting role for almost every image we see.  In a supporting role. But what happens when we give sound the leading role? What occurs when we close our eyes to create our own pictures instead of blindly believing everything we see?
The project invites people to find their own pictures to the music rather than have those pictures prescribed for them, to discover, to explore and be free to have the sound inspire pictures unique to every listener.
Sound is an opportunity to harness the power of our own imagination and connect to what is deep inside of us.  We launched the project with a series of online events exploring an AIS (Auditory Imagination Supplement).  You can experience Sounds To Pictures in the way we intended by watching the first AIS video below.
Constellations is the third volume in Tim Arnold's Sounds to Pictures series and a project that explores dreaming with artist and dreamer Kate Alderton.
In a new creative process exploring dreams, synchronicity and what Tim terms as 'action composing', the ten compositions were each written on ten different nights, over the space of ten weeks. Tim started to write each new piece after finishing a telephone conversation about dreams with Kate.
As Kate entered sleep and dreams on the south coast of England, Arnold, would begin to compose a new piece of music back in London, while she dreamt. At the end of the ten-week process, violinist Jonathan Hill joined Tim to build on the musical arrangements and record the violin passages.
Once Tim had completed the recording of the album, Kate listened to the album as she slept and used her dreams to create collages, resulting in the original album artwork.
The album is led by Jonathan on violin, with all other instrumentation performed by Tim, and Kate joining for two tracks on Singing Bowls.